Scaredy-Cat Confession
I love horror movies (and no, that's not my confession). I've been watching horror movies since I was a small child. I loved Freddy Krueger and the Crypt Keeper. I remember watching
Critters
over and over on cable. The violence never registered on my radar; I loved the way the bounty hunter's face kept changing. My dad let me rent a schlocky, gory (and yes, cheesy, because this was the eighties) movie called
Slaughter High
and I watched it alone--as an eight year-old.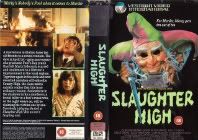 Thing is, those movies didn't really scare me. One or two very specific things freaked me out a little (Marty's laugh at the end of
Slaughter High
, for example, made me hide behind the recliner until the video tape stopped playing and it rewound itself). But for the most part, no. Not too scared of them.
I don't remember ever having a nightmare about Freddy or anything else in those horror movies.
Know what I did have nightmares about as a kid?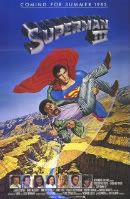 Yep. And not because it was an awful movie, and not because it starred Richard Pryor. No, because of the scene at the end when Annie Ross gets turned into a scary-ass cyborg.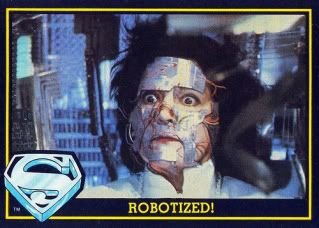 GAH! I can't even look at that without shuddering. I RAN into the kitchen and HID during that scene the first time. And every time after I watched that movie on television, I hid. I hated that scene, but I loved Superman, so I'd watch any of the movies.
*shivers*
So that's my big Halloween, Scaredy-Cat Confession.
What's yours?