HUZZAH, RICHELLE!!!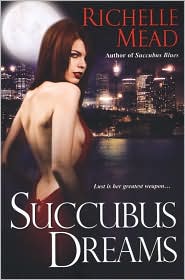 Ladies and gentlemen, I give you
SUCCUBUS DREAMS
, the latest in the Georgina Kincaid series by the amazingly talented and incredibly cute
RICHELLE MEAD
. This is the third book in the series, and from what I'm hearing, it's freaking amazing. It's getting bumped to the top of my TBR pile.
And for the record, I think the dress on the cover was spray-painted on. Dayam. I wish I could wear a dress like that.
A huge HUZZAH to you, Richelle! I'm so proud of you!
Now everyone, go out and buy SUCCUBUS DREAMS. Now, now now.